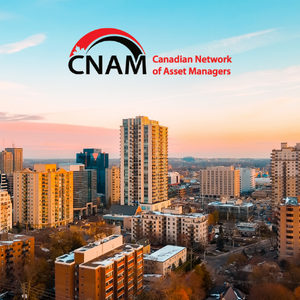 We are thrilled to announce that the CNAM 2022 Annual Conference will be located at the DoubleTree by Hilton Hotel in London, Ontario of May 2-5, 2022!
The past two years have been challenging on many levels but CNAM rose to the challenge and embraced the change to successful virtual events with its 2020 and 2021 Virtual Conferences. We are proud of our community for sticking together through this challenging period.

As we transition back to in-person events, the 2022 Annual Conference will be a hybrid format. This gives you as a guest, the choice of attending in-person or continuing to attend virtually.
We are so excited to share this news with you all and look forward to seeing you face to-face at the 2022 CNAM Annual Conference.
Stay tuned for further information!
Questions? Contact conference@cnam.ca 
The Canadian Network of Asset Managers (CNAM) is hosting its first Hybrid Annual Conference from Monday, May 2nd-Thursday, May 5th, 2022 in London, Ontario at the DoubleTree by Hilton Hotel. The conference theme will be CONNECTIONS: Building an Asset Management Community. The Hybrid Conference Format will allow us to connect with industry peers from across Canada and Internationally as well as ensure accessibility for all.
We are inviting program submissions which will be considered for the upcoming Hybrid conference.
When submitting your presentation abstract, please consider which topic area(s) your presentation best fits:
Asset Management Fundamentals
Risk Management
Levels of Service
Natural Asset Management and Climate Change
French Language Content
First Nations
People and Leadership
We will be building our streams around the responses we receive.
As always we are looking for a breadth of content to provide all Conference attendees with value. We welcome presentations for organizations new to AM who have successfully taken their first steps and wish to share their experiences, all the way through to organizations who are pushing the boundaries and shaping the future of AM. This includes small organizations and large organizations!
The Conference Committee is also actively seeking proposals for workshops for the 2022 Conference. These should be interactive sessions to engage CNAM members in hands-on exercises that can accommodate 50-80 people each.
We encourage speakers to present in-person, however, you will have the choice to select whether you are more comfortable presenting virtually or in-person.
DEADLINE FOR SUBMISSIONS: Friday, January 28, 2022 at 5:00pm EST
Please note: Submissions that are not fully completed will be rejected.
Questions? Contact events@cnam.ca