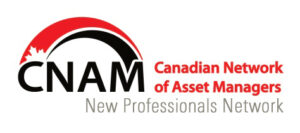 The objective of the New Professionals Network (NPN) is to provide a comfortable forum for new professionals to actively contribute to the growth of CNAM and the Asset Management profession. The group will also play an active role in supporting and introducing more professionals to the field of Asset Management.
Mission
Support the activities of the Canadian Network of Asset Managers through supporting and fostering the development of new asset management professionals by:
Creating opportunities to network and develop their knowledge and skills
Facilitating access to research, education, and training opportunities, and
Supporting innovation and new ideas.
Objectives
Provide a forum for new Asset Management professionals to network & build relationships.
Provide support for new professionals in the field of Asset Management.
Outreach to educational institutions.
Increase the foundation upon which CNAM can rely for support.
Provide a comfortable forum for idea generation.
Scope
People working in any sector settings (e.g. public, private, academic) are eligible.
New Professionals are any individuals who are new to, or have less than 5 years of experience working in, the field of asset management.
For more information
CNAM Admin admin@cnam.ca